Engineering the Fight Against Disease
Cancer Research in Engineering
Bionanotechnology-enabled monitoring of disease progression during cancer treatment
Numerous studies have demonstrated that cancer treatment's effectiveness varies from patient to patient and depends on the type of cancer and drug. When patients undergo chemotherapy, sometimes their tumours do not respond, causing the treatment strategy to change. Data about disease progression during treatment is, therefore, critical to informing decisions about drug regimes. Tumour biopsies give clinicians information by removing and examining tissue, but these are very invasive and disruptive to the patient.
Taking blood samples ('liquid biopsies') is less invasive than taking tumour tissue samples, enabling more frequent monitoring of treatment response and improving patient experience. One cancer marker in liquid biopsies is DNA from the tumour ejected into the bloodstream. However, at present, there is no approved device for monitoring such circulating tumour (ct) DNA in liquid biopsies.
ERPE are working to fill that gap, using biomolecular engineering and nanotechnology to develop a new approach to ctDNA detection and monitoring. We are using engineering methodology to create a new technology that can provide cancer patients and their doctors with better information about how their tumours respond to prescribed therapies.
Implantable Microsystems for Personalised Anti-Cancer Therapy (IMPACT)
The Implantable Microsystems for Personalised Anti-Cancer Therapy (IMPACT) Project team consists of engineers, chemists, veterinary clinicians, social scientists and human cancer specialists from the University of Edinburgh, Heriot-Watt University and the Western General Hospital. IMPACT was a 5-year, £5.2M research project, funded by an EPSRC Programme Grant, to develop new approaches to cancer treatment, using implanted Smart sensors on silicon, fabricated in the ERPE's Scottish Microelectronics Centre. The second phase of this programme is in development.
IMPACT will use miniaturised, wireless sensor chips the size of grass seed to monitor the minute-to-minute status of an individual tumour, allowing treatment to be targeted to damage cancer cells as much as possible.
4MD (Multi-Modal Manufacturing of Medical Devices)
The MDMC will work in partnership with medical device design companies, clinicians, and patient groups, seeking to translate engineering and clinical know-how to ensure that medical device manufacture is practical and commercially viable. Unmet clinical and industrial needs will drive their activities.
Medical device technologies are vital for detecting and treating a significant number of diseases and healthcare problems. Increasingly, micro-devices are being developed for minimally-invasive measurement and therapy, for example, in cancer detection and drug delivery. Broad-based take-up of such devices is vital to provide low-cost and highly repeatable manufacturing solutions.
Using the EPSRC £1.3 million Platform Grant, coupled with our industrial partners, we are idealised to provide appropriate manufacturing solutions and enable rigorous testing and a route to commercialisation and ultimate application.
SONOPILL
ERPE has played an active role in the research of SONOPILL. Capsule endoscopy for diagnosis in the gastrointestinal (GI) tract has emerged only in the past ten years. It is now established in several commercial products and benefitting more than one million patients. The SONOPILL programme's core is the exploration of ultrasound imaging and therapeutic capabilities deployed in capsule format. Extensive pre-clinical work supports this product, demonstrating the complementary nature of ultrasound and visual imaging, along with studies of multimodal diagnosis and therapy as the SONOPILL travels through the GI tract. Our programme's carefully structured but open-ended approach maximises the possibility to meet challenges while delivering international leading science and engineering in multimodality capsule endoscopy. The ultimate aim is to provide greater capabilities for the clinician, more acceptable practice for the patient population, and lower economic well-being costs.
ERPE has also developed deep learning tools for plant phenotyping and MR image analysis to aid coronary heart disease diagnosis and has built successful collaboration with Canon Medical for automated data mining of healthcare records and imaging exams.
ERPE is in the process of establishing a medical device manufacturing centre (£3M ERDF funding) with academic partners and 20 industry partners.
Scottish Microelectronics Centre engineers vital parts for Covid-19 healthcare
ERPE Scottish Microelectronics Centre (SMC) helps technology companies manufacture critical parts for use in intensive care units during the Covid-19 pandemic. The Covid-19 pandemic has created an unprecedented demand for protective gear, and the School has been at the forefront of local efforts to supply key workers with face shields.
We use 3D printing to make headbands for face shields, with students and research, technical and academic staff producing them in the School's laboratories and their own homes.
The School has donated nearly 1,200 shields made in this way – and has hundreds more ready to deliver – to local health and social care providers, including hospitals, a hospice, a dental practice, and a housing association.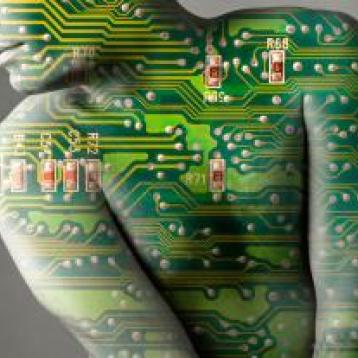 Network of sensors in the human body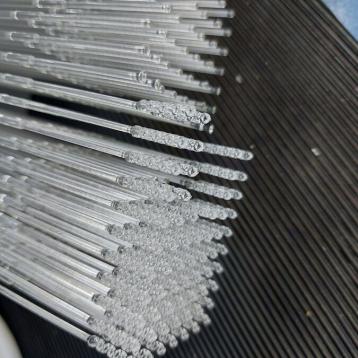 The helix of the new COVID swabs